Join us for a talk with Sigal Ben-Porath about her new book, Cancel Wars. This event is open to the public.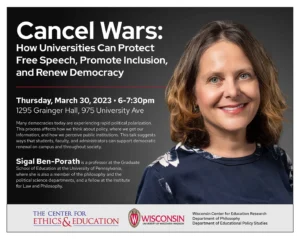 Thursday, March 30
6-7:30pm
1295 Grainger Hall, 975 University Ave.
Many democracies today are experiencing rapid polarization. This process affects how we think about policy, where we get our information, and how we perceive public institutions. This talk suggests ways that students, faculty, and administrators can support democratic renewal on campus and throughout society.
Sigal Ben-Porath is a professor at the Graduate School of Education at the University of Pennsylvania, where she is also a member of the philosophy and political science departments, and a fellow at the Institute for Law and Philosophy.