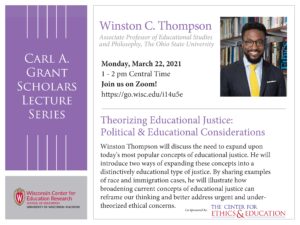 Carl A. Grant Scholars Lecture Series
Speaker
Winston C. Thompson is an Associate Professor in the Department of Educational Studies and Associate Professor in the Department of Philosophy (by courtesy) at The Ohio State University. He received his PhD (with distinction) in Philosophy and Education from Teachers College, Columbia University. Thompson's scholarship explores ethical/political dimensions of educational policy and practice.
In this talk, Thompson points to dominant conceptualizations of educational justice, suggesting a few ways that these popular versions of the concept are unsatisfying. On this basis, Thompson argues for widening the conceptual scope of educational justice so that it might better engage urgent and under-theorized ethical concerns. In the service of this argument, the talk will introduce a distinctively educational variety of justice, suggesting two ways in which it expands our conceptualization of educational justice. Thompson will conclude by illustrating how this reframing aids our careful thinking across example cases of race and immigration.
Co-sponsored by the Carl A. Grant Scholars Lecture Series and the Center for Ethics and Education.